Circle of Peace Labyrinth
What is a Labyrinth?
The labyrinth is an ancient symbol found across many cultures and around the world. Labyrinths are often confused with mazes  but are very different. Mazes are intended to puzzle and confuse with many possible turns and dead ends. In contrast, a labyrinth walk can be meditative, relaxing, and soothing as you find your way along just one path to the center and one path out. The purpose of a labyrinth is not to lose one's way, but to find it.
The most common use of the labyrinth is as a spiritual tool, a way of silencing the noise and turmoil in our busy lives, for centering and meditative prayer. The slow, rhythmic walking, back and forth, eases the mind and acts as a full body prayer. The walk will affect each person differently each time it is walked.
Using the Labyrinth
All are welcome to share our labyrinth.  There is no wrong way to walk a labyrinth. In fact, walking is not even required. Walk, sit, watch, skip, dance, pray or simply be in the presence of the Divine. It is important to remember that your walk is as individual as you are. With an open mind and heart, you may choose to walk the labyrinth with a prayer or concern you wish to focus upon. While some seek answers to an issue or problem; others find comfort from grief or relief from stress. Some people experience profound joy, others become tearful. Move at your own pace. While walking with others, please momentarily step off the path when meeting or passing someone.
The "journey in" can be a shedding of distractions, or the silencing of the noise and turmoil in our busy lives. The center may be a place to pause and receive guidance or blessings from Spirit. Stay as long as you like. The "journey out" offers a time for reflection and gradual return to daily life while integrating any wisdom gained. If you have benefitted from other forms of meditation, or found walking as a calming and clarifying experience, this form of full body prayer may be of interest to you. It is a powerful way to center yourself and receive meaningful insights.
Dedicated to Susan Sponeybarger
Our labyrinth is dedicated to Susan Sponeybarger (1943-2007) who spoke often of the great love and acceptance she experienced at Unity of Madison, her spiritual home. She returned that gift by serving on the Women's Retreat Committee and as a Prayer Chaplain. When Susan transitioned in 2007, she made a very generous contribution to our community which funded the building of our labyrinth. Built on June 14, 2014 by more than three dozen volunteers, it is located near the corner of Tompkins Drive and Groveland Street. All are welcome to share our community labyrinth.
DECEMBER:  First snowfall looks great on our Peace Labyrinth!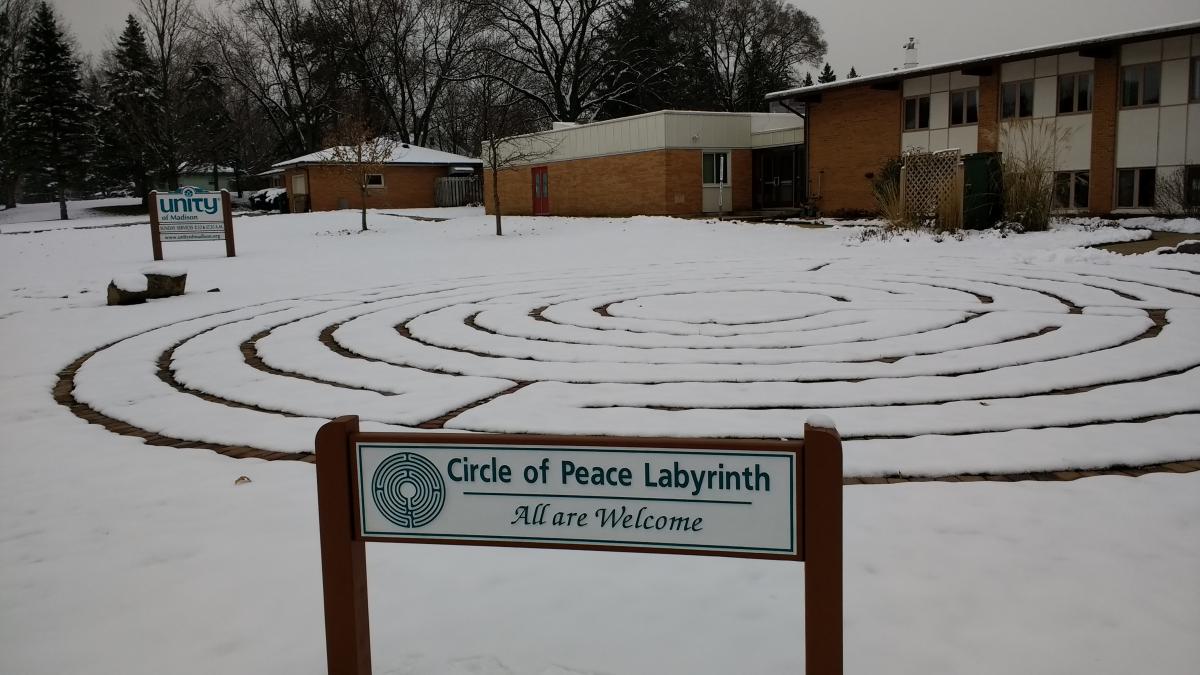 (Photo courtesy of Marylin Duguid and Doug Davis)